Kobo is one of the leading retailers for ebooks, and probably the biggest when it comes to EPUB. Their premise is that "consumers should be able to read any book, anytime, anywhere, and on the device of their choice."
With stocking millions of ebooks and users from over 200 countries, they now have a range of eReaders and reading Apps for all ranges of tablet and smartphone. At this time Kobo devices are only available in English speaking countries such as U.S., Canada, U.K., Australia and New Zealand.
Kobo Vox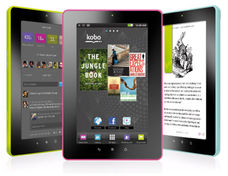 The Vox is a 7-inch Android tablet with a vivid, full color, FFS* touch screen and is Kobo's flagship eReader. As is typical with tablet devices, the Vox comes with Wi-Fi as well as sporting a Micro USB port. Interestingly, Kobo have included a built-in speaker (yes, that's singular) but I'm sure most people will be using the 3.5mm stereo headphone jack.
There's space for around 8000 ebooks - that's 8GB internal storage - though you can also drop-in a 32GB SD card, allowing you to take your whole ebook, music and video collection with you.
As this is a tablet, and doesn't use the E-Ink screen found on the other Kobo eReaders, the battery life is therefore limited to around 7 hours — so don't expect to read a whole book on a single charge.
Being an Android device also means that you have access to the whole Android App ecosystem, so you'll be able to do normal tablet activities such as Email, Music, Video and web browsing, as well as keeping on top of things with your favorite Social Network, if that's what takes your fancy.
* FFS: "Fringe Field Switching" LCD display
Kobo Touch eReader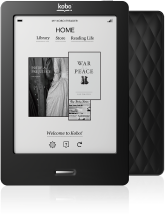 This is the top-of-the-range E-Ink reader from Kobo, sporting everything you'd expect from an E-Ink device, with the addition of a buttonless interface.
The Kobo Touch is a 6-inch dedicated eReader that comes with WiFi, Pearl* touch screen and a USB port. The internal storage is 2GB (around 2000 ebooks) and includes a SD memory slot for adding another 32GB of storage.
All devices that come with an E-Ink screen are particularly good at reading in outdoor conditions, and in fact benefit from a clearer display the brighter the light. They also have very capable battery lives and the Kobo Touch is no different in this respect; allowing up to one month between charges, which is more than enough to take on holiday without worry.
* Pearl E-Ink screens only have 16 levels of gray and so do not show color.
Kobo WiFi eReader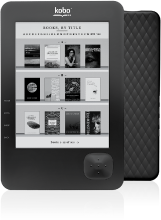 As Kobo's first foray in to the dedicated eReader market, the Kobo WiFi is perhaps a little plain, but it's still more than up to the job of doing what dedicated eReaders were designed to do; read books.
This 6-inch reader comes with the older generation of E-Ink screen that doesn't quite have as good a battery life as the Pearl screens, though you'll still get up to 10 days. For your money you'll also get WiFi and a 32GB SD memory card slot, plus 1GB (1000 ebooks) internal storage.